Australia's only Mariachi Mexican Band of Adelaide had experienced The Adelaide Fringe Festival on the last day and what an experience it was. Many people stopped to watch, listen and have a laugh as this Mexican Mariachi Band performed in fine fashion as usual catering to all from adults to children.  This Mexican band is a universal band that caters to everyone and we like to think perfect for every event you can imagine.
The Adelaide Fringe Festival is the best fringe festival in the world as it offers great varied entertainment where 100,000's of people visit this beautiful state we live in to see quality entertainment. It also caters for children with fun rides, and prizes to be won.  A plethora of food stalls to choose from and before you know hours have past.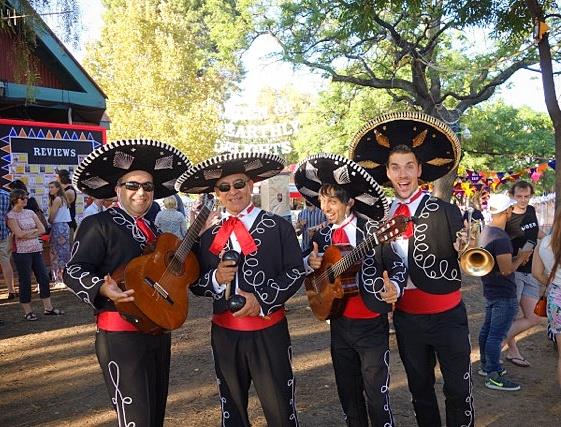 We enjoy being part of the Adelaide festival experience and look forward to seeing you gringos next year.
flamenco adelaide, flamenco dancers, flamenco guitarist, flamenco show, san churros, westfield westlakes, san churros adelaide, san churros australia,mariachi mexican themed birthdays, entertainment ideas, community events, music festivals australia, mariachi band melbourne, mexican band melbourne, latin band melbourne, mariachi band sydney, mexican band sydney, latin band sydney, mariachi band perth, mexican band perth, latin band perth, roving act adelaide, roving acts perth, roving acts, sydney, roving acts, melbourne, roving act gold coast, roving act brisbane, roving act, tasmania, roving act canberra, roving act darwin, mexican band brisbane, latin band brisbane, mariachi band brisbane, mariachi band darwin, mexican band darwin, latin band darwin, mariachi band brisbane, mexican band brisbane, latin band brisbane, mexican band hong kong, mariachi band dubai, mexican band china, mariachi band thailand,
mexicanbandtokyo, wedding anniversary, mariachi band adelaide, mexican band adelaide, latin band adelaide, mariachi band australia, mexican band australia, latin band australia, wedding proposal, wedding ideas, wedding
latin guitarist adelaide australia, wedding guitarist adelaide australia, flamenco guitarist adelaide australia, classical guitarist adelaide australia, australia, latin guitarist melbourne australia, wedding guitarist melbourne australia, flamenco guitarist melbourne australia, classical guitarist melbourne  australia, latin guitarist sydney australia, wedding guitarist sydney australia, flamenco guitarist sydney australia, classical guitarist sydney australia,  latin guitarist queensland australia, wedding guitarist queensland australia, flamenco guitarist queensland australia, classical guitarist queensland australia, latin guitarist perth australia, wedding guitarist perth australia, flamenco guitarist perth australia, classical guitarist perth australia, latin guitarist tokyo japan, wedding guitarist tokyo japan, flamenco guitarist tokyo japan, classical guitarist tokyo japan, latin guitarist dubai united arab emirates, wedding guitarist dubai united arab emirates, flamenco guitarist dubai united arab emirates, classical guitarist dubai united arab emirates, latin guitarist dubai united arab emirates, wedding guitarist dubai united arab emirates, flamenco guitarist dubai united arab emirates, classical guitarist dubai united arab emirates,wedding entertainment adelaide, wedding entertainment melbourne, wedding entertainment sydney, wedding entertainment brisbane, wedding entertainment gold coast, wedding entertainment darwin, wedding entertainment perth, wedding entertainment tasmania, wedding entertainment australia, events adelaide, events melbourne, events sydney, events gold coast, events brisbane, events darwin, entertainment adelaide, entertainment sydney, entertainment perth, entertainment melbourne, entertainment perth, entertainment tasmania, entertainment gold coast, studio city hotel macau, entertainment singapore, entertainment asia, entertainment bali, wedding entertainment bali, wedding entertainment new zealand, multicultural band adelaide, multicultural band melbourne, multicultural band sydney, multicultural band canberra, multicultural band australia, peruvian band adelaide, bolivian band adelaide, peruvian band melbourne, bolivian band melbourne, festival entertainment south australia, festival entertainment perth western australia, festival entertainment canberra, festival entertainment sydney nsw, festival entertainment melbourne victoria, festival entertainment brisbane queensland, festival entertainment gold coast, dj adelaide,, music entertainment talent agency adelaide, music entertainment talent agency melbourne, music entertainment talent agency sydney, music entertainment talent agency brisbane, music entertainment talent agency gold coast, music entertainment talent agency darwin, music entertainment talent agency perth, music entertainment talent agency australia, music entertainment talent agency bali, music entertainment talent agency singapore, music entertainment talent agency dubai, event stylist adelaide, dj adelaide, wedding sa, wedding VIC, wedding WA, weddding NSW, Mariachi band hong kong, mexican roving band hong kong, hong kong theme parks, entertainment, roving bands honk kong, hong kong entertainment, mexican mariachi band honk kong, themed roving acts hong kong, hong kong fun parks, beer festival Qingdao, mariachi band Qingdao, Mexican band Qingdao, roving bands Qingdao