Thank YOU and the guys for making my party a lot more special :)Received many comments on the night and received many emails during the following days on how great you were.
The Three Amigos +1 Mexican Mariachi Band Adelaide Australia performed a great show for Judith's 60th birthday. We love that people make the effort to dress up in Mexican costume. The music, the costume, the people, the energy and the laughs just make the night brilliant and memorable.
Lots of dancing and silly laughs to be had on the special night.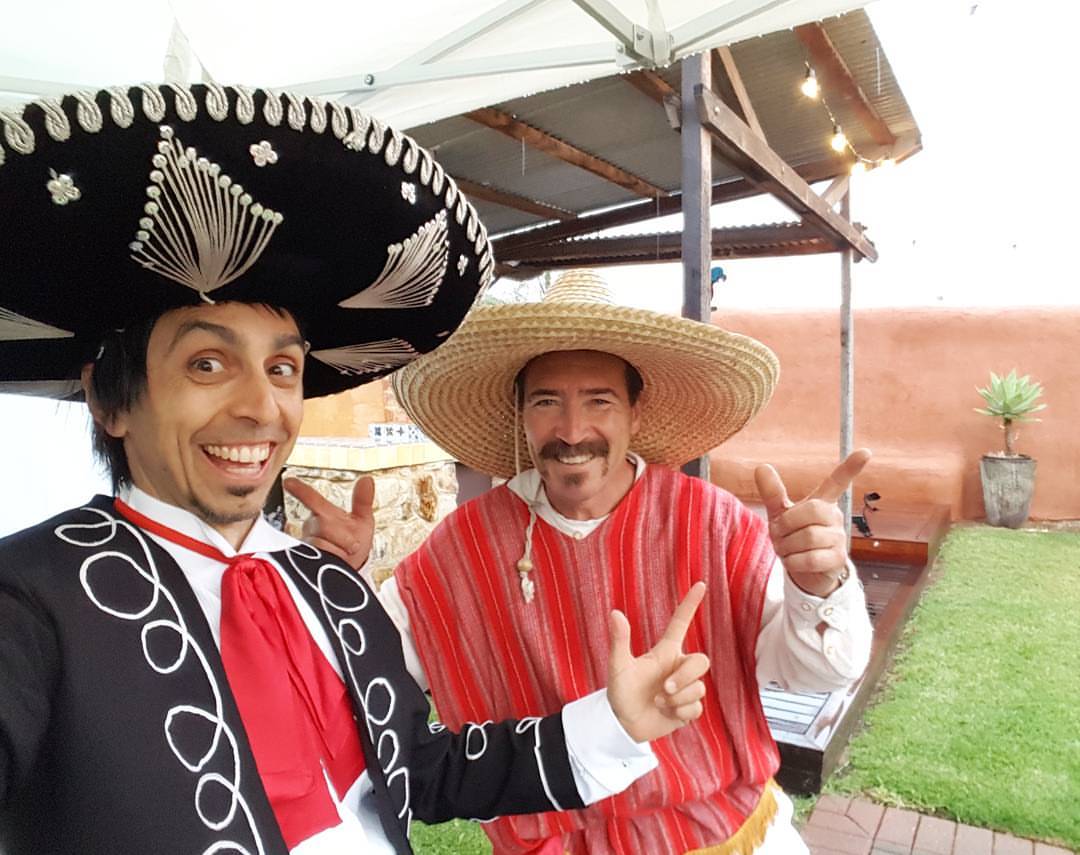 singapore, singapore events, singapore grand prix, marina bay sands hotel, marina bay count down, new years eve party, roxby downs, mining, council, world festival, adelaide convention centre, flamenco adelaide, flamenco dancers, flamenco guitarist, flamenco show, san churros, westfield westlakes, san churros adelaide, san churros australia,mariachi mexican themed birthdays, entertainment ideas, community events, music festivals australia, mariachi band melbourne, mexican band melbourne, latin band melbourne, mariachi band sydney, mexican band sydney, latin band sydney, mariachi band perth, mexican band perth, latin band perth, roving act adelaide, roving acts perth, roving acts, sydney, roving acts, melbourne, roving act gold coast, roving act brisbane, roving act, tasmania, roving act canberra, roving act darwin, mexican band brisbane, latin band brisbane, mariachi band brisbane, mariachi band darwin, mexican band darwin, latin band darwin, mariachi band brisbane, mexican band brisbane, latin band brisbane, mexican band hong kong, mariachi band dubai, mexican band china, mariachi band thailand,
mexican band tokyo, wedding anniversary, mariachi band adelaide, mexican band adelaide, latin band adelaide, mariachi band australia, mexican band australia, latin band australia, wedding proposal, wedding ideas, wedding, multicultural band adelaide, multicultural band melbourne, multicultural band sydney, multicultural band brisbane, multicultural band gold coast, multicultural band perth, multicultural band darwin, multicultural band tasmania, multicultural band singapore, multicultural band asia, multicultural band penang, world festival multicultural band australia, latin guitarist adelaide australia, wedding guitarist adelaide australia, flamenco guitarist adelaide australia, classical guitarist adelaide australia, australia, latin guitarist melbourne australia, wedding guitarist melbourne australia, flamenco guitarist melbourne australia, classical guitarist melbourne  australia, latin guitarist sydney australia, wedding guitarist sydney australia, flamenco guitarist sydney australia, classical guitarist sydney australia,  latin guitarist queensland australia, wedding guitarist queensland australia, flamenco guitarist queensland australia, classical guitarist queensland australia, latin guitarist perth australia, wedding guitarist perth australia, flamenco guitarist perth australia, classical guitarist perth australia, latin guitarist tokyo japan, wedding guitarist tokyo japan, flamenco guitarist tokyo japan, classical guitarist tokyo japan, latin